If you've been on the internet, you've probably heard of Coachella, the famous music festival in Indio, CA that every LA blogger and Instagrammer goes to get their "trendiest content." Pinterest Coachella and you'll find images of perfectly crafted boho outfits with the desert sunset glistening in the background behind the iconic Coachella Ferris wheel perched at the entrance to the festival.
But what's Coachella really like? I went to find out.
Living in Los Angeles, I had to check Coachella off my bucket list. This year I went with my cousin Lily who flew in from New York City and desperately needed some Cali sunshine to give her back some life that the concrete jungle stole from her.
I had several reservations about going to Coachella in the first place, some of which were reaffirmed. I am going to talk about all of it, and because I like to end on a high note, we'll start with the bad and make our way to the good.
The Cons
1. There are way too many people
If you don't like big crowds, and I certainly do not, Coachella may be your biggest nightmare. People warned me there would be large crowds, but I had no idea what I was in for. Right off the bat, we got stuck in a sweaty mob of humans trying to squeeze through the front gates. Tensions were high and it took a lot of deep breathing to get through alive.
*We did not have VIP or artist passes so this is my experience from the general admission point of view.*
2. There is trash everywhere
Because there are so many people at Coachella, there is a ton of waste. I recently did a video with my friend Michelle where we tried making zero trash for one week, so I was hyper-aware of the amount of waste we produce as humans. Seeing so much trash at Coachella just lying around on the ground, made me feel uneasy and sad.
3. It's hot AF
The festival grounds are located basically in the middle of the desert so it's hot, dry, and super dusty. During the day it's not uncommon for the temperatures to reach past 100 degrees, but when night rolls around the temperature drops quite a bit. I found it difficult knowing how to dress for both because I didn't want to carry a sweater around during the day. They have lockers you can keep stuff in but every time I walked past, there seemed to be quite a long line to get to them.
4. Long lines everywhere
The first day getting into the festival was by far the worst line I have ever experienced. It was not a line, but rather an angry mob of people all stuck under the hot desert sun, trying to push their way forward to enter. Once we finally got through that mess, every line seemed to be pretty long. We didn't even bother going on the Ferris wheel because every time we walked by there was a long line to get on. Luckily, the healthy vegan food vendor seemed to be the shortest of the food lines.
5. Instagram culture and image-obsession
All you have to do is look at Coachella Instagram photos to see the image-obsession that surrounds this event. Everyone is trying to look their hottest, cutest, trendiest, and most-boho chic. I fell right into this trap. I found myself wanting to get the perfect Coachella outfit for the perfect Instagram. I think I got some good ones, but it didn't make my weekend any better.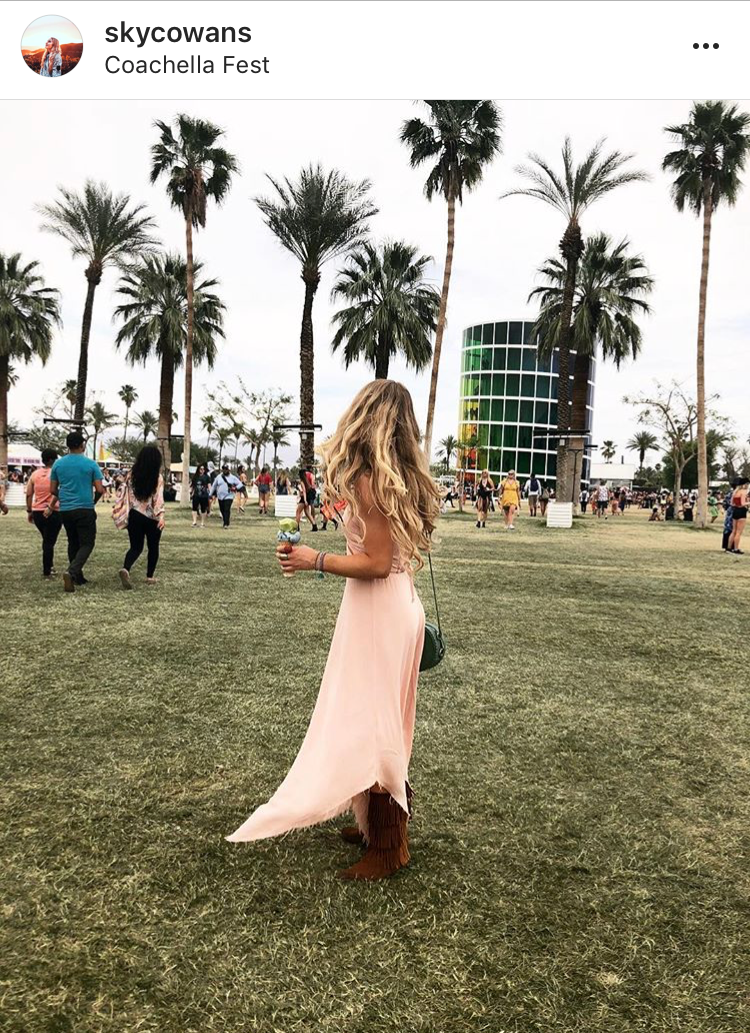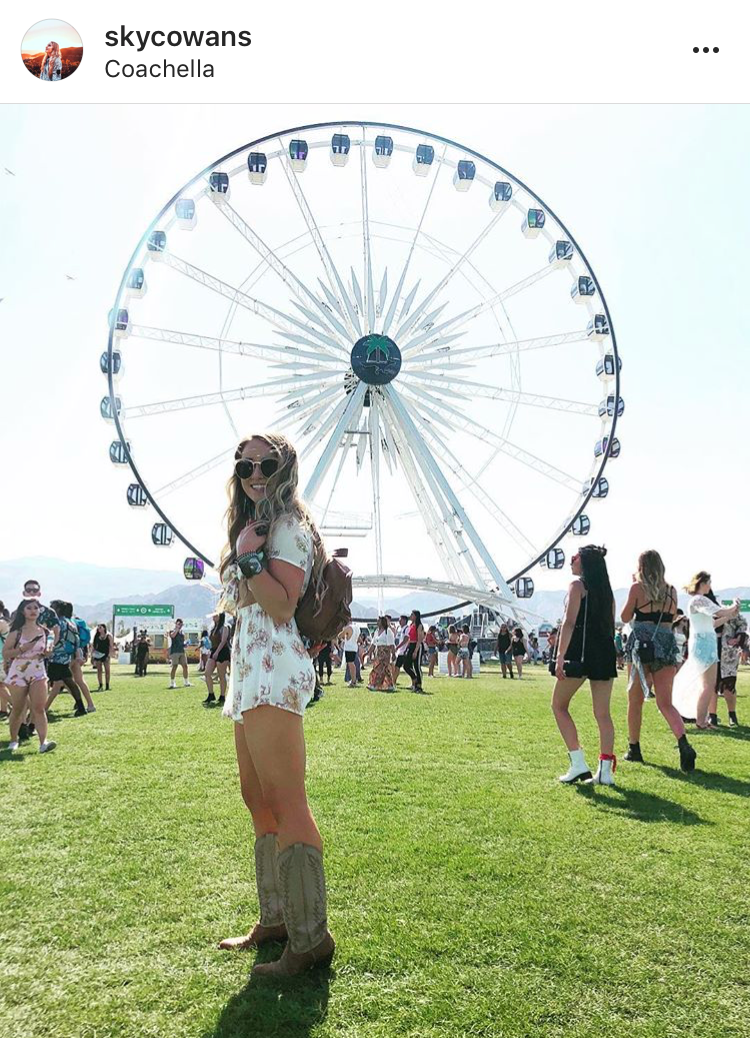 The Pros
1. The music is fire
The 2018 lineup was absolutely incredible, which was a big draw for me to make the effort to go. Be sure to plan which artists you want to see ahead of time and arrive early enough so you can get a good spot and enjoy the music. The crowds at the shows can get packed so I preferred to see smaller artists and watch the headliners from the outskirts. I would rather listen from further away and still have room to dance!
2. The vendors are stellar
Despite the long lines, the food was great. They had everything from your trendy LA spots like Sage Vegan Bistro and Van Leeuwen ice cream, to more traditional festival food like nachos, pizza, and soft pretzels. I definitely indulged in some pizza one night... it was everything.
3. Meeting new people
I expected the environment to be a little more open and inclusive than it was. It seemed like most people already had their friend group and were a little more reluctant to mingle than I expected at a festival scene. However, if you're determined to meet new people, you absolutely can. We ended up meeting some really cool new friends. Don't be afraid to talk to people and open up!
4. You'll get lots of exercise
We walked more than 27,000 steps (+10 miles) each day. I did not need to do the morning workouts I squeezed in at the hotel. You're also dancing a ton so you're getting calorie burn to the max. Be sure to fuel yourself properly!
5. It's an experience you will never forget
Whatever your experience at Coachella may be, it's one that you'll learn from and never forget. I'm sure that Lily and I will be telling our grandchildren about our Coachella experience!
Tips for a successful Coachella
1. Find your outfits early, but don't care too much
Even though outfit hunting can feel daunting, it can be really fun if you have someone to shop with. If you do want to go all out with your Coachella look, don't wait until the last minute like I did. Find time a few weeks before to find your outfits for each day. If you don't feel like putting in the effort, you could wear a t-shirt and shorts and have just as much fun.
2. Go with the right people
Lily is one of my best friends and we stuck together the whole weekend and had a great time. I do think it also would have been really fun to go with a group, just not too big of a group. It's really hard to keep a group together in such a chaotic place, so if you do go with a group, make sure you have at least have one buddy to stick with the whole time who you can trust.
3. Wear comfortable shoes and bring a bandana
You'll be walking a ton, so make sure you have proper footwear that you don't mind getting dusty and dirty. I wore cowgirl boots the first day, Doc Marten ankle boots the second day, and then mocassin fringe boots the last day. All were pretty comfortable but I still came back with crazy blisters!
Because it gets really dusty, you'll want a bandana just in case the wind picks up and is blowing dirt in your face. You can also use it to sit on so you don't have to sit on the dirty ground!
4. Keep your belongings safe
Bring a bag with a zipper that's hard to get into. Coachella is notorious for having items stolen, so make sure you are locking away your wallet and phone in a compartment of your bag that's difficult to get to. A cross-body satchel that you can keep in front of you is ideal.
5. Don't stress too much
I am a worry wart, so the whole Coachella experience induced a bit of stress for me, much of which was unnecessary. There's no need to stress and worry. Coachella is about letting go and having a blast, listening to fantastic music, and being with people you care about. That's all you need to focus on to have a successful Coachella experience.
Despite some of the negatives, I would 100 percent go to Coachella again, and next time I'd know exactly what to do to make it even better. Lily and I had an incredible time together and I wouldn't trade our weekend for the world. If you want to go to Coachella, you absolutely should. Plan early and don't stress too much about anything.
Vibes,
Sky